Click here for the Skyward Gradebook Quick Reference Guide
Secondary Gradebook – Teacher Guide
---
---
How to change the display to a simpler view. 
My Gradebook
Pick a Course
Display Options
Grade Period Display

Uncheck what you do not want to show – Click save

This will leave it with term grades first and then assignments following when added.
---
How can I take attendance by period, not class?
You can take attendance by period:
Teacher Access \ Post Daily Attendance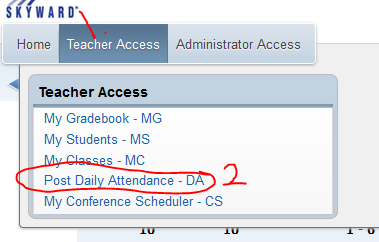 This way is by class and it shows that you would have to post attendance 3 different times for one period.

This way is by period and you can take all 3 classes in one list.

---
How do I change a six weeks grade or add extra credit points to a grade?  (Don't change a final grade.)
Click options in the 1st six weeks column.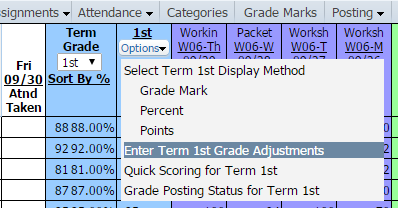 Click Enter Term 1st Grade Adjustments

Enter the grade you want to give the student, press enter.  It will show how much it is adjusted and then the total grade.  The posted grade does not update until you save.  It will show updated in Gradebook and also will show in Posted Grade if you go back in to Enter Term 1st Grade Adjustments after the first save.

---
Where do I add comments for a student?
Look under Posting for Post Comments.  You can add the same default comment to all students then change just the few you want to say something else.

---
How do I email or message parents?
Click on My Classes and pick a class (even if you want to send to multiple classes)
Class options
Message Center – pick Multiple Classes if you want to send to this whole class or multiple classes, pick Current Class if you want to pick to send to some students within this class.

Type your message
Scroll down and select if you want to use the message center to post or email.  Message center is only seen when they login to Skyward.  I would choose email to send to students and/or parents.
Select the classes or all to send the email.

---
---
Merging Classes – Be very careful if you combine classes.  You need to make sure that you do not have any assignments in the classes you want to combine.  You need to make sure you will be giving the same assignments to the combined classes.  If you change your mind at a later date and want the classes taken apart, you will erase all grades and assignments entered in those combined classes.   Page 21 of this guide.
---
What to do when a student enters in the middle of the term

?
Student will be marked with a NEW next to their name.
You must enter something for starting grade.  This grade should come from counselor or previous teacher.
You never need to change a final grade.  Instead if you have questions, ask!
NEWbuttonSkyward . PDF Directions
---
I need to change a grade which is in the past.
If the term is closed, request in Skyward
Fill out a grade request sheet (give to Pat at HS)
You want your grade to match report card, ask!