Registration is Now Open
On-line registration is now open for all new and returning students. Use the following link to get started and to learn more about GRISD's on-line registration process.
MacBook Pickup Schedule
More Information can be found here.

High School
August 4 8:30-11:30 AM Seniors
August 4 1:00-4:00 PM Juniors
August 5 8:30-11:30 AM Sophomores
August 5 1:00-4:00 PM Freshman
Junior High
August 6 8:30-11:30 AM 6th Grade
August 6 1:00-4:00 PM 6th Grade
August 7 8:30-11:30 AM 8th Grade
August 7 1:00-4:00 PM 7th Grade
If you or your student(s) has not had a MacBook orientation, Macbook orientation will take place at the pickup times listed above.
Gradebook Opens Monday August 11, 2014
GRISD's on-line grade book will open on Monday, August 11, 2014, complete with all your student's schedules and class room teachers. Each year, you will have to create your account; however you can use your same email address to create the account.You will also need your student's lunch code to attach your student(s) to your account. The code can be obtained at your child's campus or from the Technology Center. The gradebook can be located at gradebook.grisd.net and will not be available for registration until August 11th.
GRISD Accepting Transfer Students
Glen Rose ISD is currently accepting applications for new student transfers for the 2014-15 school year. A limited number of spaces are allotted for grades PK-12. Additional information regarding student
transfers can be found here or call 254-898-3905.

GRISD 2014 Tiger Eye Award Winner
Marilyn Phillips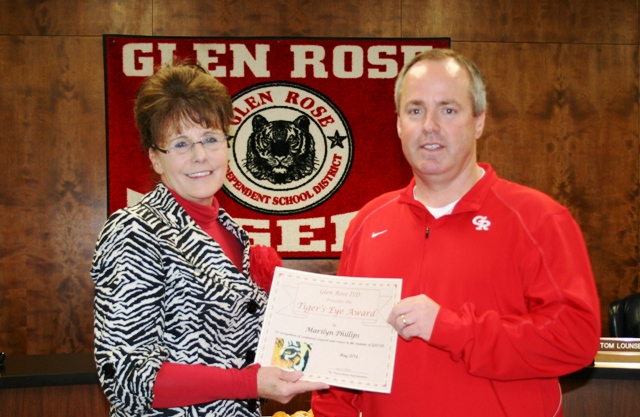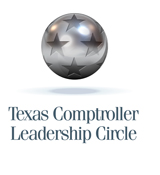 Mission Statement
"The mission of the Glen Rose Independent School District, in partnership with the community, in a caring, learning environment is to develop in students' minds the capability to build a world commUNITY in which humanity will live in global harmony."

Glen Rose ISD does not discriminate against students on the basis of gender, age, race, nationality, religion, disability, socioeconomic standing or non-proficiency in English language skills in providing educational services for students. Superintendent, G. Wayne Rotan