In May 2001, the legislature passed Senate Bill 19. It requires each school district to implement a Coordinated School Health Program and to establish a School Health Advisory Council (SHAC) to make recommendations regarding that program. The SHAC must consist of at least 50% parents of current students, and school personnel are also on the council.
These councils serve in an advisory capacity and do not have any legal responsibilities within the school system. The SHAC members must be approved by the school board, and comply with written by-laws of the organization.
There is an orientation for new members, and each person has an opportunity to contribute to the agenda and to bring forth suggestions and concerns regarding school health issues. Meetings are held four times a year.
What is a CSHP?
A Coordinated School Health Program (CSHP) model consists of eight interactive components. Schools by themselves cannot—and should not be expected to—solve the nation's most serious health and social problems. Families, health care workers, the media, religious organizations, community organizations that serve youth, and young people themselves also must be systematically involved. However, schools could provide a critical facility in which many agencies might work together to maintain the well-being of young people.
Eight Component Model of a Coordinated School Health Program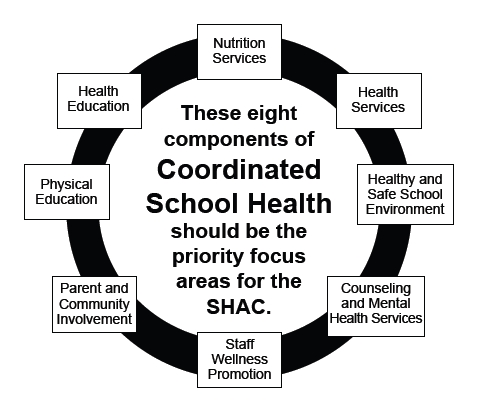 2023-2024 SHAC Meeting Dates:
All meetings are held at 2 PM in the GRISD Technology Center.
If you are interested in serving on our
GRISD SHAC committee, please contact
Janan Stephenson BSN, RN
GRISD District Lead Nurse
(254)898-3859